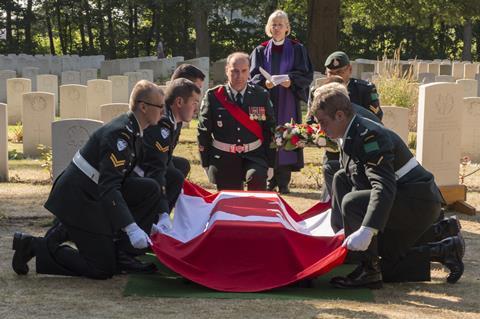 The provision of medical care, shelter, food, and a safe place are what many would call humanitarian action in response to armed conflict and disaster. The provision of forensic assistance is mentioned less frequently. But treating the dead with dignity, identifying them, and providing responses to loved ones and communities are the goals of Humanitarian Forensic Action (HFA).1 The HFA was coined by the International Committee of the Red Cross and was the subject of a special issue of 2017 Forensic Science International illustrating the global and multidisciplinary work being done to provide relief after armed conflict, shipwreck at sea, infectious disease epidemic, natural disaster and more.
World War II saw perhaps the first extensive use of forensic disciplines to investigate wartime mass murders, although investigators and researchers now use forensic science to assess conflicts and fighters from ancient times to the modern day. Stable isotope analysis of dental material – a modern part of identifying human remains2-5 – recently revealed that the local combatants who historians believed were involved in the fall of the ancient Greek city of Himera probably played no role.
Including or excluding people, objects and places is an important part of stable isotope analysis. Forensically, this technique has been used to authenticate art and artifacts, fight food fraud, and uncover the origins of unidentified human remains.3 By assessing the composition of strontium (87Sr /86Sr) and oxygen (δ18thO) isotopes in their bones and teeth,3,4,6 to limit a world of possibilities to a single region. Knowing a person's early childhood whereabouts can link investigators to family and possibly other records, both of which are critical to identification.
Historical notes
When it comes to identifying war victims, science does not come first. History does. One recently Forensic Science International The special issue "WWI and WWII: Legislation, Recovery, Identification and Burial of Human Remains" highlights the critical role solid historical analysis plays in reconnecting a number of human remains to their identities in life. Such analysis is the first step in the Canadian Forces Casualty Identification Program to find human remains.2 The investigation of the events that took place at this location will hopefully narrow the list of candidates.
Next comes forensic anthropology to further narrow the candidate list. In a war, records cannot be relied on alone – even when paired with anthropological data on age. In searching for World War I victims, Canada's program faced the "challenge that men often lie about their age in order to recruit, especially those younger than the minimum age of 18".2 Determination of 87Sr /86Sr and18thO in teeth or bones – and possibly subsequent DNA analysis – can resolve inconsistencies and put things right.
Correction of records
Isotope analyzes have also shown that the records of the battle of the Kapelsche Veer bridgehead in the Netherlands during World War II may need to be revised. In this series of skirmishes, which lasted from December 1944 to February 1945, soldiers from the British Royal Marine Commandos, Free Norwegian Commandos, Free Poles and Canadians fought the German Army. Two sets of human remains were recovered from an ordnance clearance in this combat area in 2010 and 2012. Laura Font and colleagues from Vrije Universiteit Amsterdam and the Recovery and Identification Unit of the Royal Dutch Army worked to trace the origins of these unidentified victims.3
Historical analysis indicated that these remains were likely "Missing" (MIA) soldiers of British, Canadian, Norwegian or Polish nationality. Although fragments of British combat clothing were found with the skeletal remains, "all nationalities wore British uniforms and used British equipment". The UK Royal Marine casualties were recorded as proven, no Norwegian MIAs were recorded, the dental records of the three Canadian MIAs were each excluded, and familial DNA testing indicated that the possible Polish MIAs were not the ones detected.
The isotope analysis brought some clarity to the conflicting and confusing information collected. The study of 87Sr /86Sr and18thTooth enamel O data showed that both victims were most likely from the UK, with the victim recovered in 2010 likely from the central-eastern parts of the country and the victim most likely recovered from the south coast in 2012. On this basis, the responsible military units investigated whether the losses of the British Royal Navy had previously been incorrectly identified. In view of the chaos of the war and the limitations of forensic analysis on site at the time, misidentifications occurred. In modern times, forensics can help make corrections and make new connections.
In an addendum,7th Font and colleagues reveal that the victim, recovered in 2010, went missing in January 1945 and grew up in Wales. Familial mitochondrial DNA analysis resulted in identification and the victim is no longer missing.
References
1 S Cordner and M Tidball-Binz, Forensic Science. Int., 2017, 279, 65 (DOI: 10.1016 / j.forsciint.2017.08.011)
2 S Lockyer and R Davis, Forensic Science. Int., 2020, 316, 110481 (DOI: 10.1016 / j.forsciint.2020.110481)
3 L font et al, Science justice, 2015, 55, 10 (DOI: 10.1016 / j.scijus.2014.02.005)
4 hours Someda et al, Forensic Science. Int., 2016, 261, 166.e1 (DOI: 10.1016 / j.forsciint.2016.02.010)
5 E brown, catalyst, 2011, 21, 1
6 KL Reinberger et al, Plus one, 2021, 16, e0248803 (DOI: 10.1371 / journal.pone.0248803)
7 L font et al, Science justice, 2015, 55, 526 (DOI: 10.1016 / j.scijus.2015.06.004)