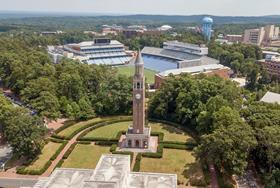 Members of the Chemistry Department at the University of North Carolina (UNC) at Chapel Hill are concerned about the "devastating effects" of the ongoing failure of the Board of Trustees (BOT) to approve the academic term of acclaimed African American journalist Nikole Hannah-Jones. They argue that the publicity related to this tenure case is seriously affecting their efforts to recruit teachers.
In fact, prominent African-American chemist Lisa Jones recently withdrew her candidacy for a position with the UNC because the board of directors handled the recruitment of the Pulitzer Prize winner. Jones, a bioanalytical chemist at the University of Maryland known for her work in structural proteomics, says the school's failure to offer Hannah-Jones a term made her reconsider whether the UNC environment was suitable for her academic aspirations, One of which is promotion, diversity, equity and inclusion would be beneficial.
"Although I've never met Ms. Hannah-Jones, as a color faculty member, I am in solidarity with her and have not been able to accept a position at UNC in good conscience," she said. "This situation points to a broader problem within the academic world where color faculties face multiple barriers and are less likely to get employment."
Discrimination lawsuit threatens
Back in April, the UNC announced Hannah-Jones as its Knight Chair in Race and Investigative Journalism, but the board has not yet considered her application for term. Previous Knight chairs received tenure in connection with their appointment, their lawyers claim.
The UNC Chapel Hill chemistry department said in a letter dated June 1 to Chancellor Kevin Guskiewicz that it had been working to recruit Jones for more than two years. "Her letter withdrawing her candidacy for our faculty reflects what our nation's minority scholars will say about the University of North Carolina at Chapel Hill when looking for jobs or considering whether it is still the right choice . "Added the faculty members. "We in chemistry wholeheartedly add our voices to the growing chorus and urge the BOT to immediately hold a vote on Ms. Hannah-Jones' term in office."
UNC is trying to avoid federal discrimination lawsuits on this matter. The NAACP Legal Defense Fund has reportedly written to the university's general counsel threatening to file a lawsuit against the university if Hannah-Jones is not offered a term by June 4. To date, the UNC Board of Trustees has not taken any action on this matter.
Critics cite federal data that only eight of the 622 full-time professors at the university are African American women.