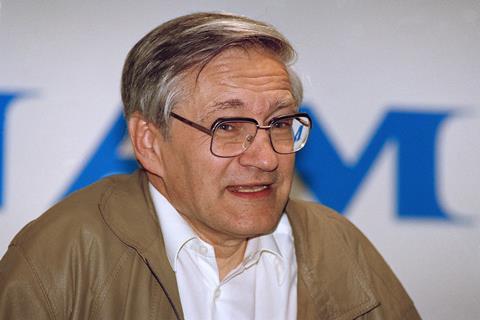 The Swiss physical chemist Richard Ernst, who received the Nobel Prize in Chemistry in 1991 for his contributions to the development of high-resolution nuclear magnetic resonance spectroscopy (NMR), died on June 4th at the age of 87. The International Electron Paramagnetic Resonance Society tweeted on June 8th that it "mourns the loss of a magnetic resonance giant".
Ernst earned a bachelor's degree in chemistry from the ETH Zurich in the late 1950s, before completing his doctorate at the same institution in 1962. He then worked as a research chemist for Varian Associates in California, USA, one of the first high-tech companies. In 1970 Ernst got a position as assistant professor for chemistry at the ETH Zurich, where he stayed for the rest of his career.
With the announcement of Ernst's death, ETH Zurich attributes the development of NMR spectroscopy to him and lays the foundation for magnetic resonance tomography. In 2010 Ernst admitted Chemistry world that although he had made a name for himself with the development of NMR, he had hardly ever conducted a "useful" experiment with this technique.
When Ernst finally retired in 1998, he was at ETH Zurich for almost three decades and a full professor for over 20 years. At the university he led a research group with a focus on magnetic resonance spectroscopy and was temporarily head of the laboratory for physical chemistry. In 2009, the ETH Zurich even named a lecture series after him.
Ernst was temporarily President of the Research Council at ETH Zurich, a member of the Swiss Science Council and also sat on the editorial boards of 10 scientific journals. He was also a member of the US National Academy of Sciences, the British Royal Society, the German National Academy of Sciences Leopoldina, the Russian Academy of Sciences and the Korean Academy of Science and Technology.
After his retirement from ETH Zurich, Ernst held international lectures on topics such as magnetic resonance spectroscopy, the historical development of spectroscopy and the analysis of pigments in paintings using Raman spectroscopy.
In addition to his Nobel Prize in Chemistry, Ernst also received the Wolf Prize for Chemistry in 1991 for "revolutionary contributions to NMR spectroscopy, in particular Fourier transformation and two-dimensional NMR".
Ernst revealed in an interview with the blog in 2011 Scientific backyard that he wasn't a good student at a young age and was almost kicked out of high school. He also often recounted how he had done chemical experiments in his basement as a teenager and how his interest was piqued at the age of 13 when he found a suitcase full of chemicals in the attic of his late uncle's house, a metallurgist.
Besides chemistry, the other passion of Ernst's youth was music. He played the cello and even considered becoming a composer. "But I have chosen the right profession," said Ernst Scientific backyard.