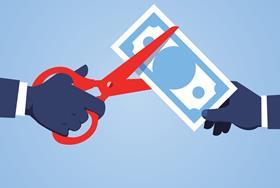 All eyes in the science community are on the spending review this fall after the government finally announced how it will be lending funding to science in the current fiscal year. The delayed allocations come amid concerns in March that payment for the stake in Horizon Europe would come from UKRI's core budget. Additional cash was found to cover the £ 1 billion bill for attending this year. A further £ 200 million is earmarked for Euratom research and training. This comes from the budget of the Ministry of Economic, Energy and Industrial Strategy (BEIS).
But UKRI's funding – at just over £ 7.9 billion – is £ 539 million less than last year, excluding one-off expenses to upgrade laboratory infrastructure. Much of the loss is due to cuts in foreign aid, which cut funding for research programs by 70%, leaving UKRI over £ 120 million and having to cancel programs.
But last fall's spending review promised an increase of £ 400 million in the budget. "The government talks about it in such a way that it was a different time – before we agreed to join Horizon." [Europe] . From then on, things moved on, "suggests Martin Smith, Policy and Advocacy Manager at Wellcome. He added that "now is the next question, which is actually making the progress we need" in order to meet the government's repeated pledge to invest £ 22 billion in research by 2024-25.
"This further increases the stake in the fall spending review, where we need to see more clearly how the government will move from around £ 15 billion to £ 22 billion a year in public investment over the next three years. And within that range, where the Horizon Europe money will come from, as it is expected to grow to £ 2 billion and possibly more by next year, "said James Wilsdon, Professor of Digital Science for Research Policy at the University of Sheffield.
Another question is "how the split between UKRI budgets and other government R&D spending will be determined, as the latter would appear to benefit more proportionally from the next phase of budget increases."
Tanya Sheridan, Policy and Evidence Manager at the Royal Society of Chemistry, added that while the overall increase in the BEIS R&D budget to £ 11.4 billion in difficult economic times is welcome, "British researchers are concerned that the A cut in the UKRI budget for 2021 "–22 could signal a longer-term trend. This is an annual billing and must represent a one-time adjustment. '
Official Development Aid (ODA) cuts have largely damaged the UK's position as it seeks to encourage other nations to raise funds to help developing countries cope with the effects of climate change in the run-up to COP26.
Colin Pulham, who heads the chemistry department at the University of Edinburgh, says "the abrupt cancellation of a significant part of" [the Global Challenges Research Fund] has had a very negative impact on many in the chemical industry, especially at a time when international collaborations to tackle global challenges are so topical and crucial. In addition, this abrupt decision has raised concerns among some colleagues as to whether this would set a precedent for UKRI to withdraw other funding programs at short notice. '
In practice, although UKRI has increased the Research Council's budgets, there is limited "scope for substantial new activities this fiscal year" as its "commitments for 2021-22 due to new Covid-19 research and innovation programs are exceptional were high ". and extensions and delays in existing programs related to the pandemic ".
"Last year was extremely difficult for the research and innovation community … but the response was just as remarkable," said UKRI Managing Director Ottoline Leyser. She added that the Community must work together to seize this opportunity "to present the strongest case for increased and sustainable investment in the sector at the next comprehensive spending review". The UK, Sheridan said, needed a long-term funding approach to "give researchers and innovators the confidence to take the risks necessary for economic recovery".