By licensing the technology from Mitsubishi Heavy Industries (MHI), Drax has taken another step in its endeavor to use bioenergy with carbon capture and storage (Beccs).
Last year the company began testing two amine-based solvents developed by the Japanese company and selected one of them for the UK's largest negative emissions project at its biomass plant in North Yorkshire. MHI's post-combustion capture technology is used in 13 commercial plants around the world. Many of them use the captured carbon dioxide to produce urea and treat a wide variety of flue gases.
The carbon scavenging solvent is expected to bring economic benefits, including lower operating costs. It's less volatile and more stable than its predecessor, which Drax also tested.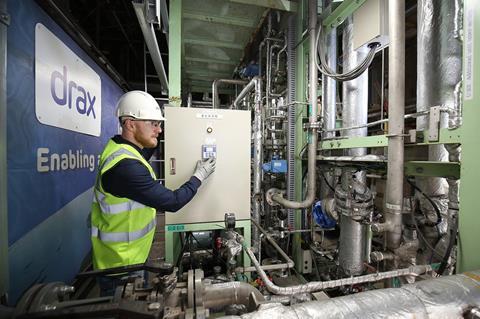 Drax is tight-lipped about the energy costs of carbon capture and solvent regeneration, but says the new solvent was designed for optimal energy use, which will account for "nearly half of the older technologies" at the Drax facility.
Drax CEO Will Gardiner said the "breakthrough contract" could "add to a decade of global environmental leadership in the UK and provide further impetus for post-Covid economic recovery" MHI plans to build a center of excellence for carbon capture and storage in London and possibly manufacture its proprietary solvent in the UK to strengthen its supply chain.
Drax has also piloted C-Capture – a spin-out from the University of Leeds – in its first off-laboratory demonstration. Its solvent technology aimed to reduce energy costs to less than 2 GJ / tonne of carbon dioxide. The two companies say they will continue to work together to advance C-Capture's process.
Last month, Peel NRE secured £ 250,000 government funding to design a Beccs demonstration facility using C-Capture technology. Its wood gasification plant in Cheshire uses commercial waste wood that would otherwise end up in landfills.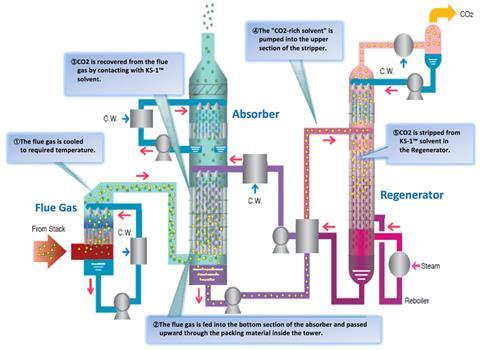 Drax burns wood pellets from low-quality wood as well as sawmill and forest residues from "sustainably managed forests", which grow faster than biomass is broken down. The emissions are counted with zero because the forests continue to absorb carbon dioxide as they grow and the waste and residues would otherwise have been burned or degraded.
By capturing and storing the carbon dioxide emitted by Drax, it is permanently removed from the atmosphere. Negative emission technologies like Beccs are seen as increasingly important in achieving net zero, although environmental groups argue that biomass can produce more emissions than burning coal and can also damage biodiversity.
Drax says that with an "effective policy and investment framework for negative emissions" by the government, the first Beccs unit could be operational by 2027. Two units would absorb 50% of emissions from power generation from biomass – around 8 million tons per year by 2030.
The plant would also be a customer for the transport and storage system developed by the Northern Endurance Partnership, which stores carbon dioxide in a saline aquifer under the North Sea. Earlier this year, Drax and his partners at the Humber industrial cluster secured £ 21 million in government funding for a £ 75 million project to begin decarbonising the region.