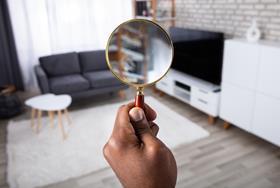 Five major new projects are set to engage the public in research on topics as diverse as mental health and microplastics, thanks to £ 1.46 million funding from UK Research and Innovation (UKRI).
Ben Williams is a research fellow at the Air Quality Management Resource Center at the University of the West of England Bristol (UWE) and leads the HOME Co-Lab project, funded by UKRI, to investigate the presence of microplastics in the air in homes to investigate by humans.
"When we think of microplastics, we think of the marine environment and we think of food … we thought it would be interesting to try to close the biospheric cycle of microplastics," says Williams. "We know it's in the water, we know it's in the food we eat, but is it in our air?"
Citizen scientists who are involved in measuring the quantities of these tiny plastic particles will set up passive collectors in various rooms in their home. Every 14 days they attach clip-on microscopes to their phones, take enlarged photos of the particles in each sampler, and then upload them to the project platform for analysis. The collected samples are returned to UWE for identification using Raman spectroscopy to determine the types of plastic and other particles present.
Without public participation in the research, data collection from the participants at home would not be practical, but there are other motivating factors for Williams. "I think citizen science is incredibly important," he says. "People have great confidence in the results of science and in what we as scientists say. And I think it's really important that we can get people involved in the process. '
Do it together
The team strives to shape the project together with the Citizen Scientists so that they can be involved in all aspects of science, from method review to sample collection to data analysis. "We can build the framework, but the citizens are the scientists here," says Williams.
This citizen-centered approach is an integral part of each of the funded projects and ensures that members of the public work with researchers to study the research questions that are most important to their families and communities.
"We wanted to support projects that were closer to co-production and co-development," says Steve Scott, UKRI's head of public engagement. The call for funding was aimed at identifying projects that "corresponded to the needs and values ​​of society", particularly those that aimed to involve groups of people who do not often have the opportunity to participate in research and innovation.
Listen to lived experience
Mike Slade, Professor of Mental Recovery and Social Inclusion at the University of Nottingham, leads another of the funded projects. The Citizen Science To Achieve CoProduction at Scale (C-Stacs) team will apply Citizen Science approaches to mental health.
"There is some mismatch between what experts think people should do to live with mental health problems and what people actually do to live with health problems," says Slade. "We want to uncover more knowledge about how people with mental health problems actually live well."
C-Stacs researchers hope to develop new approaches that will help transform the UK mental health system. It is important that your project includes people with living experience of mental health problems, not just the perspectives of academics and clinicians.
"We believe that there is an untapped powerhouse of knowledge about innovation and transformation in the lives of the people who are actually affected by these problems," says Slade. "We hope that by asking large numbers of people living with mental health problems what would help them live better, we have a new resource to educate about changing mental health systems."
Beyond papers
UKRI sees Citizen Science as a powerful way to increase engagement with science. "This integrates this work with the public into the research process. So it's not an optional extra, it's something you need as part of your research, "says Scott.
Scott is also aware of the different types of results or measures of success of these projects. "When we think about what good quality and excellent research look like, then it's not just about high quality journal publication, but also about other elements related to research that are valued and important," he says. "This is what excellent research looks like. It is about doing engaging research, engaging the public in this process, and instead of seeing the public as separate from the research system, they are an integral part of that system and an important part of the way research is done. '