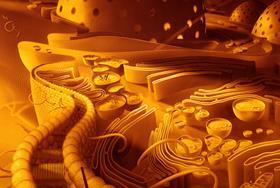 Anyone who really knows about cell biology will be free to admit that we don't know much about cell biology. The latest insight in this direction has developed in recent years: It seems that there is a complete system for organizing cellular content and processes that we did not really understand.
These are the "membrane-less organelles" or "biomolecular condensates" (to name two of the more popular terms) and they are literally droplets of phase-separated material that appear and disappear in living cells. They had been seen microscopically for decades, and the more obvious types had been given different names – mostly variations on vague terms like "stains," "granules," "body," and the like. But what has become clear to everyone is that these are actually separate liquid phases that appear and disappear under certain conditions and have well-defined compositions and functions. They appear to be balanced near different thermodynamic tipping points to assess how quickly they can form or disappear.
The tracking of drug molecules in cells is a whole amorphous bunch of black boxes and black bags connected by black tubing
Their interiors include proteins that tend to have large unfolded regions, or proteins that bring excess positively charged residues together with partners that have excess negatively charged residues. And, in general, there are many species of RNA whose phosphate groups also contribute to the liquid phase properties. My own mental picture of these things is that they are likely to be similar to the ionic liquids that were found throughout the chemical literature a few years ago. This is consistent with reports that some of them produce surprisingly polar liquid phases in model systems. I had never thought that proteins and nucleic acids would form such mixtures, but I have known for a long time that by cellular standards I lack the imagination.
Why are there such things at all? Condensates provide an oddly high concentration of some enzymes and reactants while excluding many other potentially diluting species. It is a way of drastically changing rate constants and specificities in a given region for a given period of time. The transcription of DNA into messenger RNA, for example, now seems to be a condensate-driven process. Tiny drops of enzyme complexes cling to strands of DNA like dewdrops in a spider's web and dissolve in some way (perhaps through changes in the state of phosphorylation?). It looks like we're all going to have to adjust our ideas about how things work in cellular interiors, and frankly, these were confused enough before this new information emerged.
My first thought when I saw these things was to wonder how different small molecules break down into (or, alternatively, are excluded from) them. When, as an organic chemist, I see two liquid phases that separate so cleanly, I am ready to bet any available sum on the idea that there must be compounds with different solubility. Indeed, a report from last year1 suggests that various cancer drug molecules appear to concentrate in some types of condensate droplets. We will surely find more such examples. Some cases of compounds that perform much better or worse than expected in cellular assays may well be due to their ability (or lack thereof) to land in the correct intracellular droplets.
But then again, we drug discovery types have always had a blind spot on that level. It may come as a surprise, but we've never really had any useful general methods of keeping track of what happens to our compounds when they enter cells. Every now and then we can pin them down and prove that they pile up in the nucleus or the lysosomal compartment or whatever, but most of the time it's a black box. It's actually a whole amorphous bunch of black boxes and black bags connected by black tubing. Perhaps the need to study the behavior of condensate will also advance this field. Imaging technology, mass spectra, new labeling and staining techniques – we'll take everything we can get and we'll need it all. Things are smaller, more diverse and changing faster than we thought!