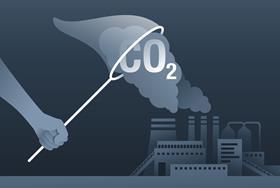 The world risks missing its target of limiting average global warming to 1.5 ° C without significantly ramping up negative emissions technologies by 2025.
The call to action comes in a study by a newly formed coalition of 20 companies and organizations suggesting that the current pipeline would remove 150 megatons of CO2 by 2025, compared to the 0.5-1.2 gigatons per year exported in by the Intergovernmental Panel on Climate Change – Global carbon dioxide emissions in 2019 were 33 gigatons. By 2050, the demand could be 6-10 gigatons per year. In view of their ecological importance, the technologies are underfunded, it says in the report.
The majority of today's carbon removal projects are natural solutions like planting new forests. Other technologies such as carbon capture and storage bioenergy (Beccs), which is being developed in the UK by Drax, and direct air capture and storage (DACS) are still in the pilot phase. The report claims that Beccs could achieve 2 to 4 gigatons in emissions reductions globally, while DACS could reach 4 gigatons by 2030, creating millions of jobs in the process. DACS solutions are developed by Canada's Carbon Engineering and Swiss company Climeworks. All three companies are members of the Coalition for Negative Emissions, which includes Heathrow Airport, the airline group IAG, Bank of America and the Confederation of British Industry. The group argues that industry and governments must now work together to scale technology. "Ensuring an effective mechanism for accounting and trading these emissions is critical to opening up this industry," said Paul Davies, group development director at the coalition recycling and renewable energy company Viridor.
Modeling cited in the report suggests that the cost of DACS using liquid solvent technology could drop to £ 75-125 / tonne carbon dioxide captured by 2050 – less than half of today's cost. The cost of solid sorbent technologies used by current DACS technologies could drop to £ 80-175 / tonne by 2050, compared to £ 450 / tonne today. However, DACS technology is extremely energy-hungry and would require a massive expansion of renewable energies – capturing 40 to 80 megatons of carbon dioxide would require between 80 to 240 million MWh of additional energy at 2000 to 3000 kWh / ton of carbon dioxide. The UK's carbon dioxide emissions were 326 megatons in 2020.
The report emphasizes that such technologies are not alternatives to reducing emissions, as the countries promised under the Paris Agreement of 2015, but are obliged to eliminate residual emissions that could exist in industries such as aviation.
Ajay Gambhir, who works on low-carbon transition pathways at the Grantham Institute for Climate Change and the Environment, argues that there is "a little nuance". He doesn't doubt that eliminating synthetic emissions is likely to play a very big role, but if you don't achieve large-scale emissions by the end of this decade, that doesn't mean it's all over. It's more likely it will be all over if we don't drastically reduce our emissions this decade. '
"What the 2020s really need to do is prove that these technologies work on a large scale and can be scaled up quickly in the 2030s," he adds.
The UK government has a £ 70 million program to fund emerging carbon removal technologies. The first supported projects include direct air separation with nuclear energy at Sizewell C, improved weathering of rocks and the extraction of carbon dioxide from seawater instead of air.