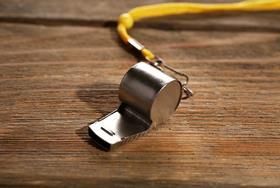 EPA officials have "improperly modified" the safety ratings of new and existing chemicals for years, and continue to do so, allege four agency scientists in a complaint from the nonprofit environmental organization Public Environmental Responsibility (Peer).
According to peer. EPA staff in the agency's Office of Chemical Safety and Pollution Prevention (OCSPP) disclosed "disturbing evidence of fraud and corruption" involving "deliberate manipulation" of risk assessments for chemicals such as per- and polyfluoroalkyl substances (PFAS). PFAS are a class of persistent, highly mobile compounds, some of which have been linked to health problems such as liver damage, birth defects, and various cancers.
On behalf of the EPA scientists, Peer has requested that the EPA's Office of Inspector General investigate allegations that public service managers before, during and after the Trump administration routinely deleted terms in these chemical risk reviews that were potentially detrimental Impact identified – including developmental toxicity, neurotoxicity and carcinogenicity – and significantly revised the conclusions of such reports to suggest that despite significant data to the contrary, there are no toxicity concerns.
Under the amendments to the Toxic Substances Control Act (TSCA) of 2016, which regulates chemicals in the United States, the EPA is required to assess the risks of existing and new chemicals before they are manufactured or imported into the country. Peer's new complaint requests the Inspector General to identify inappropriate changes to these chemical safety reviews and restore the correct risk information.
"These changes in risk ratings are not just artifacts from the Trump administration; they continue on a weekly basis, 'said Kyla Bennett, director of science policy at Peer, a former attorney with the EPA. "All of these changed assessments must be withdrawn and corrected to protect both chemical workers and the American public."
Although EPO staff raised these concerns for several months and filed a complaint under the EPA's Scientific Integrity Policy, Peer says they were not addressed and that these whistleblower scientists were harassed by managers named in the complaint.
Peer forwarded the complaints not only to the Inspector General, but also to Congressman Ro Khanna, who chairs the US House of Representatives Environment Subcommittee, and Michal Freedhoff, who has headed the OCSPP since June.
"Our hope is that the [inspector general] will conduct a full, yet prompt, investigation into our customers' claims, "says BennettChemistry world. "Every day that goes by is another opportunity for dangerous chemicals to hit the market without undergoing an appropriate review," she said, suggesting that these concerns warrant a hearing in Congress.