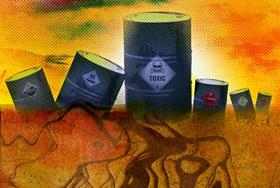 Exposure to harmful waste chemicals kills people every day. The lancet The Pollution and Health Commission found that diseases caused by pollution and improper waste management were responsible for nearly 11 million premature deaths in 2019. That's 16% of all global deaths.
The commission also found that deaths from environmental lead exposure (900,000) and occupational chemical exposure (870,000) were higher than those from malaria (643,000) or HIV (864,000). The total number of chemical-related deaths (1.8 million) is many times higher than deaths from malnutrition, obesity, high sodium diet and many other societal problems and injustices – and does not include direct pollution, which causes an additional 9 million deaths.
These overwhelming numbers were presented at a recent German government-led meeting that discussed the urgent need for global chemicals management. The UN had previously planned a similar event, but postponed it until next year. The German Environment Minister said we couldn't wait – I and many others agreed. Chancellor (and chemist) Angela Merkel said at the event: "To ensure that chemicals management meets high safety standards in all countries, we also need solid rules around the world for handling chemicals and chemical waste and their consistent enforcement". Regulate'.
Connected thinking is required
The limited, fragmented interactions between science and politics in the disposal of chemical waste contribute to health and environmental damage worldwide. The problem is addressed directly in the UN Sustainable Development Goals (SDGs): One goal speaks of "reducing deaths and diseases from dangerous chemicals" and is linked to another goal, "good use of chemicals and waste". But as Merkel stated in her opening speech at the Berlin meeting, the projects of the UN Environment Program (UNEP) will not achieve these goals without better cooperation.
The consensus in virtual space – scientists, business leaders and policy makers – is in line with the RSC's longstanding position on the issue: The global problem of chemical pollution and waste management is so critical and urgent that there is adequate global coordination and leadership by the Governments needs. The specific science-policy interface that we advocate will sound familiar: we need an intergovernmental body that is funded by UN member states and has access to world-class scientific and political expertise that corresponds to that of the IPCC. Rebecca Pow, UK Chemicals Secretary, said at the meeting that "we support the need for stronger links between the evidence base and the decision-making community on chemicals and waste through an authoritative interface with science policy". These are welcome words and the urgent need for action is increasingly being reconciled.
The chances are obvious – beyond the obvious, to save millions of lives and clean up our planet, of course. Merkel has shown how critical this challenge is. Our own Prime Minister, Boris Johnson, recently spoke of his desire to make Britain a "science superpower". What better opportunity could he ask for? Together with Germany – a nation with which the British government publicly boasts of close ties – we can lead the way in Europe. We can put UK science at the center of global politics and lead the way in environmental cleansing through technological innovation. The costs for the individual member states to establish a science-policy interface for chemicals would only be a fraction of a tenth of a percent of the science budget. At the meeting, Pow committed £ 255,000 from the UK to a more general chemical waste program. Given the scale of the problem, is that really enough commitment?
No time to waste
The downside of a superpower is the responsibility it brings with it. Europe, and the UK in particular, have some of the richest consumers in the world. All UK waste was 221 million tonnes in 2016 and this story does not end in this country but spreads far beyond our own borders. The decade-long legacy of chemical manufacturing in developing countries – often from companies in rich countries – also needs to be addressed. If the Prime Minister wants Britain to be a scientific superpower, we have to start acting like one; a good first step would be to devote serious resources to setting up and running an intergovernmental body.
The UN machinery is notoriously slow, but we cannot afford to lose momentum now. In setting the agenda and making decisions, the United Nations Strategic Approach to International Chemical Management needs to understand the power of collective sentiment in the chemical community. A leader in the field, Zhanyun Wang of ETH Zurich, Switzerland, has launched a signature campaign to show that support for a new UN body is strong in the scientific community.
As chemists, we are uniquely positioned to become the engine room of the campaign against chemical pollution and waste. I have happily added my own name and invite you to do the same. Sign it. Help us take global responsibility – and tackle another global challenge. Millions of lives are at stake.