Pfizer is investing $ 1 billion (£ 716 million) in Arvinas, a Yale University spin-out, to commercialize the protein degradation agent ARV-471. The transaction includes an equity investment of $ 350 million, giving Pfizer an approximately 7% stake in Arvinas, as well as $ 650 million in upfront cash and milestone payments. The two companies already had a license agreement that was signed in 2018.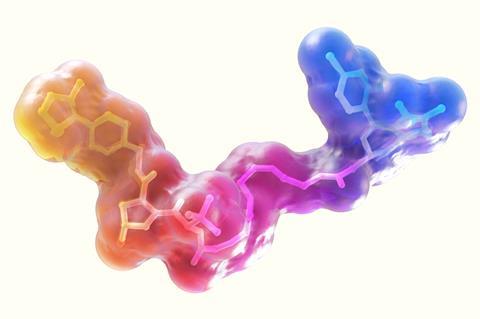 ARV-471 breaks down the estrogen receptor, a driver of most forms of breast cancer. It is currently in phase 2 clinical trials for breast cancer and in a phase 1b trial in combination with Pfizer's palbociclib (Ibrance). Further studies are planned, particularly phase 3 studies in metastatic breast cancer, including combinations with palbociclib, planned for 2022.
"This collaboration has the potential to make a difference as it combines our leadership in targeted protein degradation with Pfizer's global capabilities and expertise in breast cancer," said John Houston, CEO of Arvinas.
The technology behind ARV-471 was developed by chemist Craig Crews at Yale. As proteolysis that targets Chimera or Protac, it works a little differently than standard drugs. Instead of blocking or activating a protein target, Protacs take over the mechanism cells use to destroy proteins. In the natural process, the enzyme ubiquitin ligase marks the protein with one or more units of ubiquitin, a protein with 76 amino acids. The tag is recognized by the proteasome, a macromolecular protein complex, which then destroys the protein.
Protacs are bifunctional small molecules that mark proteins for destruction by the proteasome. One end binds to a ubiquitin ligase, the other is a ligand that targets the disease-causing protein, connected by a linker that ensures that both are in the correct orientation. It doesn't matter where on the protein it binds, just that it properly positions the ubiquitinylation machinery. This could make it possible to target proteins previously thought to be untreatable due to an inaccessible active site.
Arvinas has another Protac, ARV-110, in the clinic that targets the androgen receptor in prostate cancer. At an earlier stage there are programs for tau protein, which may have potential in Alzheimer's, and alpha-synuclein in diseases such as Parkinson's. Other collaborations include a target discovery deal with Genentech and one with Bayer for agricultural applications.
While Arvinas is the furthest advanced, several other companies have Protacs and related molecules in or nearing Phase 1 trials – mostly for cancer. Bristol Myers Squibb, Nurix, and Dialectic have conducted Phase 1 studies against various cancers, while Kymera (in partnership with Sanofi) has one in autoimmune diseases. A variety of other startups and academic groups are in the early stages of development, and several have signed contracts with large pharmaceutical companies.